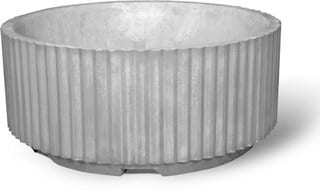 Concrete security planters, also known as cement security planters, are a beautiful option for crowd control and property barriers. The security they add to any facility is essential. Concrete security planters are especially important at government and military facilities where public safety is of primary concern. Schools and colleges also use cement outdoor planters to keep areas secure.
Decorative concrete barriers are aesthetically pleasing alternatives for any type of perimeter security needs. They can easily be filled with trees, shrubs, flowers and bushes to protect a facility and guide foot traffic and automobile traffic in driveway areas. Storefront areas are an example of how traffic security is important as autos come in and out of the front door areas frequently. This allows for pedestrian safety at the entrances as well as an eye-pleasing decorative option.
Concrete security planters come a variety of styles, sizes and finishes which provide the perfect combination for traffic control, security, and beauty. They come in several shapes including round and rectangular. Decorative concrete barriers can match the surrounding area to add to a pleasing experience. The environmental factor is important to many facility owners, so the concrete planters provide a way to incorporate beauty into a place that needs added crowd control and security features. They can be used year round in all weather conditions so the investment is a good choice for all environments.
Hospitals, retail, and corporate facilities often use round concrete security planters. The round models give a clean, appealing presentation to any location. Educational facilities look for long lasting, extra durable, moveable concrete security planters for their campuses and stadiums. Decorative concrete barriers are often welded with a 3/8 welded rebar cage with forklift knockouts to easily reposition or relocate for facility expansion.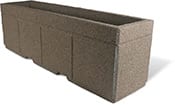 Government and military facilities often use a High Security Planter Barrier, which is reinforced for extra protection. These concrete security barriers provide public safety – the number one priority for these institutions. These concrete security barriers combine maximum protection with a decorative geometric style, which is ideal for perimeter security.
If you are in need of concrete outdoor planters, take a look at the options 48 Barriers has online. We can also answer any questions you may have regarding these types of barrier security options.