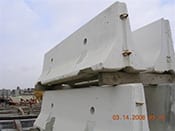 K-Rails, used throughout California and the west coast, are excellent solutions in the important task of accident prevention.  Since the 1960s when these concrete traffic barriers were put into use for cross-lane collision prevention, they have not only helped reduce those types of accidents but they have also proven to be:
great solutions for construction areas, temporary work zones, and large event traffic control, with accessories such as barricade warning Lights.
portable with the addition of lighter materials and water-filled versions.
extremely versatile with various heights and shapes, like mini K-Rails, which meet many commercial needs.
highly effective in redirecting and slowing down traffic flow when necessary.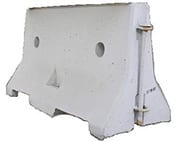 The K-Rail concrete traffic barriers are designed with an upward slope so that an automobile's direction is pivoted at impact. This turns the car back to the lane it came from instead of crossing into oncoming traffic, which could cause even more damage. The accident prevention from K-Rail usage is expanded when they are used as parking lot dividers for large amounts of auto traffic or pedestrian traffic. Concrete traffic barriers are also a great solution for retaining walls, to protect heavy equipment and to secure perimeters.
The lives saved in construction areas, work zones and high traffic locations are significant when compared with the same types of areas that are not using K-rails. Add in the convenience of how K-Rails easily direct traffic flow, saving manpower for other projects and the K-Rail Barrier system is an excellent option for nearly any project.
48 Barriers has various styles and sizes of K-Rails, Jersey Barriers and concrete traffic barriers for accident prevention. 48 Barriers ships new and used barriers locally to any of the 48 contiguous states. We'd be happy to assist with any questions and orders. Give us a call at 866.755.3325 or get a Quick Quote a Quote for a FREE estimate.