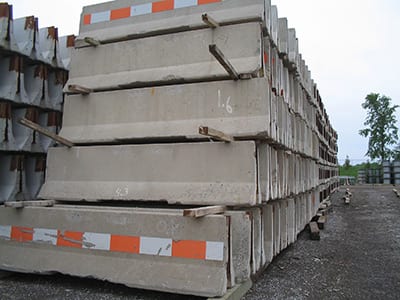 When your crowd and traffic management project is small, the budget is usually small is well. Used concrete barriers are the perfect answer when you need barriers but have a small budget. Used concrete barriers also fit the bill when barriers are needed for temporary crowd control such as a one-time event or temporary traffic control for the parking at a one-time event.
The safety, strength, and security aspects of these used concrete barriers still meet all regulatory guidelines when specified. Used concrete barriers work as well as new concrete barriers, even though they may have wear and tear spots from weather, equipment transport, or other environmental factors. Used concrete barriers still secure perimeters, stream traffic, deter movement into access points, inhibit erosion in construction areas, and protect workers. The lower cost simply helps with lower budget events and projects.
48 Barriers offers a wide variety of concrete barrier products including used concrete barriers for sale. Call us with any questions regarding used concrete barriers toll free at 866-755-3325. Our phones are answered 24/7.