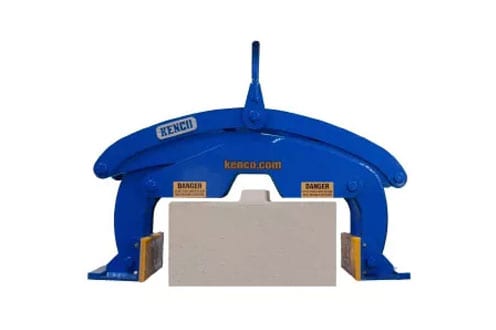 Bin Block Lifter BL6000A
Similar to the Kenco barrier lift, the Bin Block Lifter is specifically designed to match all concrete bin blocks between 24 – 30″ in width, with lifting capacity of up to 6,000 lbs. per block. Designed for operator safety first and lifting efficiency to set blocks into place without the need to hook into the lifting ring, which requires unnecessary and additional labor. The Bin Block Barrier Clamp has a unique design that allows the lifter to fit perfectly over the key-way molded into these precast blocks. The operator simply hovers the open tongs of the concrete block lifter over and down the sides of the block. The cut away portion straddles over the keyway to allow the lifter to rest flat. Setting on the barrier fully, the legs automatically grips tightly while the block is raised. The exclusive elastomer grip pads insure a safe and secure lift. Once it is set into place, tension is released on the sling, and the lifter quickly releases the block and locks into the open position for easy removal and ready for the next block.
The concrete block lifter is ready for operation once a sling and shackle assembly such as the Rigmax is attached to the lifting eye.
6,000 LB capacity
Grip Range of 24″ to 30″
Unique design to fit Bin Block
Kenco is the leader in lifting equipment with quality and safety at the forefront.