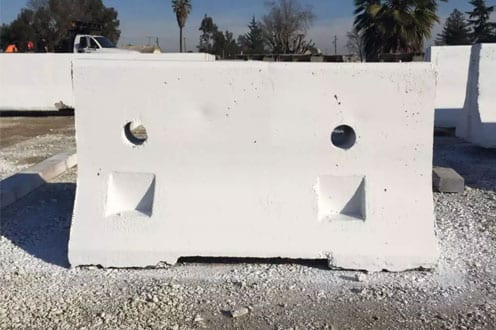 5′ MINI K-Rail Barrier
MINI concrete k-rail barrier includes fork slots to quickly re-position. Perfect for parking lots, construction sites, crowd control, event management, sports complexes, schools and universities, security guard outposts, propane tank protection. Be able to quickly deploy concrete barriers and solve problems before they get out of hand, safely and efficiently.
Keep your on-site personnel safe and protected. Do you have high car traffic and pedestrian traffic at the same time, and is safety your #1 concern? These k-rail barriers can keep cars and people separate and safe.
Closing a road or parking lot temporarily? No one will get out of their car to move this 1 TON concrete barrier! Use a standard pallet jack to move and set in place. You can also use the 4″ lifting hole to rig up to any other type of industrial equipment.
Call us today to get you a quote including shipping to your site. Need them offloaded and set in place, just let us know that too and we will include it with your shipping quote. Connection hardware depends on your location.
Product specifications
Dimensions:

5'L x 2'W x 32″H
Get a Quote
Fill out the form below, and we'll get back to you as soon as possible!
"*" indicates required fields