Features: The 2001M is made using rotational molding to ensure watertightness and integrity. The unit is manufactured with internally molded baffels in order to maintain its shape, be properly sealed and leakproof. The unit is provided with drainplugs and underside grooves to allow flow of surface drainage.
The units are joined together by a unique coupling device. This coupling device aids in the prevention of separation of the individual portable energy distribution cell units, in the event of an impact.
The unit has ports devised to allow for ground mounting and forklift holes for ease of mobility when filled. The material is a recyclable polyethylene. It is rotational molded to a thickness of approximately 8mm. An ultraviolet light inhibitor is introduced into the raw material mix to provide sufficient protection to ensure reasonable life of the product in all weather conditions. When installing as a longitudinal channelizer, the units can be interlocked and ballasted. When installed as a work zone safety device or road closure, the units may be used empty, ballasted, or completely filled with water. Warning flags, steady burning lights or flashing lights can be securely mounted to each unit, if required.
Applications: School Zones | Student Drop Off Zone | Special Event Parking | Barrier Walls | Longitudinal Channelizer | Sign support | Temporary work zones | Security Mazes | Road Blocks | Standard colors available are Natural White, Safety Orange. Other colors are available upon request.
Dimensions: 6′ Length X 18″ Width X 32″ Height
Male Connection: 5.25″
Female Indentation: 6″
Top Fill Holes: 4″
Post Boot: 3.75 AND 2.75″
Approx. 75 lbs. empty, 880 lbs filled with water, 1425 lbs with sand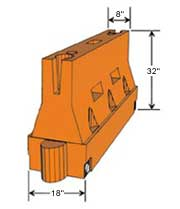 Call 866-755-3325 for pricing.